Get to know Mike Greenfield of Greenfield Fine Arts
Mike Greenfield is a stone sculpture artist based in Goodyear, Arizona. His passion for art began with pencil, pen and ink drawings, which he learned in California. After moving to Lake Tahoe, he began to study watercolor and eventually combined it with his pen and ink drawings. He later explored three-dimensional art and took bronze classes at Lake Tahoe Community College where he learned the entire bronzing process.
Mike's passion for art took him to Scottsdale Art School where he studied under Cowboy Artists of America, John Coleman, and Orland Joe Sr. It was during this time that Mike began his latest endeavor, carving stone and combining it with bronze. This combination presented unique challenges that Mike had never experienced before. Working with 50, 100, or 600-pound stones, which are almost as hard as a diamond, required Mike to take time to study the stone before carving.
Mike's process involves spending time with the stone in his studio, looking at it from different angles, handling it, and trying to see what is in the stone. He considers the color and shape of the stone, as well as the motion and style he wants to convey in the final sculpture. Mike's goal is to create sculptures that invite the viewer in and touch them emotionally. He wants his art to beautify the viewer's life.
Mike's work is characterized by its beauty, detail, and emotional appeal. He combines different elements, such as stone and bronze, to create unique pieces that are both visually stunning and emotionally moving. Mike's work shows that dedication and passion for art can lead to great achievements and that the process of creating art is just as important as the final product.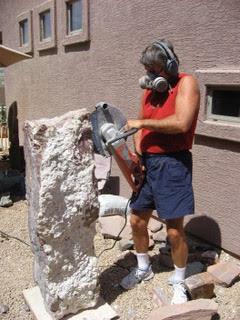 Our Interview with Mike Greenfield
In the world of sculpture, Mike Greenfield is a master. Greenfield's sculptures are crafted from stone and bronze, and each piece is entirely original. His artwork has captured the attention of art collectors across the southwest, and his ability to bring inanimate materials to life is nothing short of amazing. In a recent interview with On Line Art Festival, Greenfield shared how he got started with sculpture and what makes his work so unique.
As a child, Greenfield was interested in art, but he wasn't very good at it. One year, he took an art class from one of the art teachers at the high school where he was working, and that started him off on drawing. He went from pencil to pen and ink, and then to watercolor. However, he still wasn't happy with what he was producing because his dimensions were always kind of messed up. So he decided to try 3-dimensional art and took a bronzing class at South Lake Tahoe Community College, which had one of the few foundries in California. He found out that his brain works better in three dimensions than it does in 2 dimensions. This led him to bronze and then to stone and bronze sculpture.
Choosing the right stone is one of the most critical parts of Greenfield's creative process. He explained that he embarks on a journey of discovery with each stone, patiently waiting for the sculpture within it to reveal itself. Greenfield carefully considers how to complement the unique characteristics of each stone with appropriate bronze components to complete his vision.
All of Greenfield's sculptures are original pieces, and each one captures the essence of the stone and the artist's creative vision. He takes great pride in knowing that his artwork is appreciated by art collectors around the world. Customers have shared stories about how their house guests are drawn to the uniqueness of each piece, which speaks to the lasting impression that Greenfield's sculptures leave on those who view them.
During the interview, Greenfield also shared that his favorite piece of art was also his greatest challenge. It was a 5-foot-tall, 3,600-pound agate Jasper stone that he found in the desert near Congress. The process of creating this sculpture was a labor of love that tested Greenfield's skills as a sculptor and his perseverance as an artist.
Greenfield's art is truly one-of-a-kind, and he is the only artist that On Line Art Festival has come across that puts both stone and bronze together to make figures like he does. His art is beautiful, unique, and highly valued by art collectors around the world.