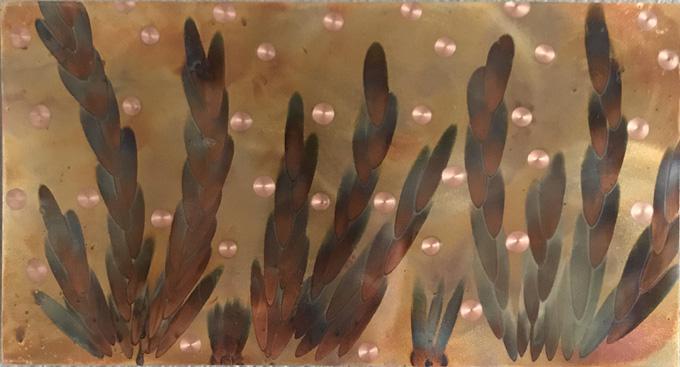 INTRO: Steve and Calisse Browne's art is "painted" copper, using a propane torch flame. Up to 14 colors, from bright yellows and greens to bold blues, purples, and browns, are oxidized onto the copper. This process requires patience and a willingness to adjust a vision for the piece as the temperature and humidity in the air affects the way copper reacts to the flame. Flame painted art is a negotiation between the artist and the copper.
Leave feedback
Describe your experience with Metal Memories, LTD
Contact
If you have any questions, feel free to contact Metal Memories, LTD via the form below.
Steve and Calisse Browne started their work with flame painting copper jewelry. The process of moving from jewelry to larger copper pieces required experimentation with various torches and techniques to prepare the metal for painting. Painting larger pieces requires multiple steps. While some steps can be prepared in advance, a number of them must be completed in succession, requiring patience and endurance, if the piece is particularly large, to create the unique, one-of-a-kind pieces of art. The couple works together collaborating on the art pieces.
Calisse started working with metal by taking jewelry metalsmithing classes at the Denver School of Metal Arts. She started working with silver but quickly moved into working with copper as well. Steve, her husband, enjoyed a class he took and began working with enamel and copper as well. They started experimenting with flame painted copper wall art and to strengthen their understanding of the oxidizing copper with heat, took a class at the Ozark Folk Center in Arkansas from a couple that discovered flame painted copper many years ago. After much experimentation, practice, and testing, Steve and Calisse transferred the learned jewelry techniques to larger wall art pieces.
The couple is very fortunate in that they work well together and complement each other's abilities. Every piece is touched by both artists. Yet, both can independently perform every component of the fire painting process. They brainstorm their projects and through discussion and experimentation, to push their understanding of working with copper and to produce more elaborate designs.
Their biggest satisfaction comes from watching others enjoy their art.
We allow returns on undamaged items for up to 30 days.
To qualify for a refund, the item should be returned in the original packaging and arrive in new condition.
Packages should be insured when returning art because damage may void or reduce refund.
Return shipping cost is the buyer's responsibility.
Contact the Artist directly for more information about returns and refunds.