Kensington Metropark Art Fair
Jun.05 - Jun.06

09:00 AM - 04:00 PM

Event Category

Independent Art Festival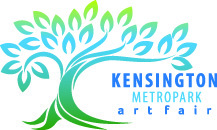 The Kensington Art Fair continues to grow. Last year we were designated one of the top shows by Sunshine Artist Magazine. Artists with all price points indicated strong sales. Many report selling originals priced in the thousands. The beautiful setting is both visible and attractive.
Kensington is one of the most popular parks in Southeast Michigan and is centered in a wealthy area of lakefront homes. Two and a half million people visit the park annually.
The show offers dedicated parking for artists and patrons adjacent to the event. We will limit the show to 100 booths. Our marketing program is designed to attract qualified high-end art collectors.
Integrity Shows uses a three-year jury system. Artists are guaranteed a space for 3 years provided they apply by the deadline and abide by the show rules. We adjust the size of the show accordingly to assure that half the spaces are available in any given year.
Please note- Kensington Metro Park requires an annual or a daily pass for each vehicle. One pass is included for each artist. If you need more passes, the fee (as of 2020) is $40 for an annual pass or $10 daily.
Leave feedback
Describe your experience with Kensington Metropark Art Fair