Fall Fountain Festival of Fine Arts & Crafts in Fountain Hills Arizona
Nov.10 - Nov.12

10:00 AM - 02:00 PM

Saguaro Blvd and Avenue of the Fountains

16845 E Avenue of the Fountains

Fountain Hills, AZ, 85268, USA

Event Category

Non-Profit or Community Organization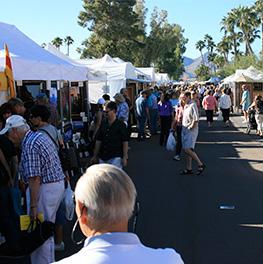 It's the 49th Annual Fall Fountain Festival of Fine Arts & Crafts! This three-day event is perfect for anyone who loves art. With almost 500 artists from around the world, you'll see all kinds of art. Each year, The festival has garnered a reputation as a landmark event in the art scene, with more than 150,000 people come to this festival, making it one of the biggest art events in the Southwest.
But it's not just about looking at art. You can also enjoy tasty food from local restaurants and food trucks. Plus, there's live music to keep the energy up. And guess what? You don't have to pay anything to get in!
Please remember, pets are not allowed at the festival for everyone's safety. If you want to keep in touch with artists you like, you can download the Visit Fountain Hills App. Don't miss this fun and creative event; it's more than just an art show—it's a great time for everyone!
Contact Hannah Toth for more information to exhibit at this festival. Artist spaces, Food trucks and food booths, and vendor opportunities are available. Hannah can be reached at 480-837-1654 or email hannah@fhchamber.com
Leave feedback
Describe your experience with Fall Fountain Festival of Fine Arts & Crafts in Fountain Hills Arizona