Fountain Festival of Fine Arts and Crafts
Nov.13 - Nov.15

10:00 AM - 05:00 PM

Ave of the Fountains and Saguaro Blvd

Fountain Hills, AZ, USA

Event Category

Independent Art Festival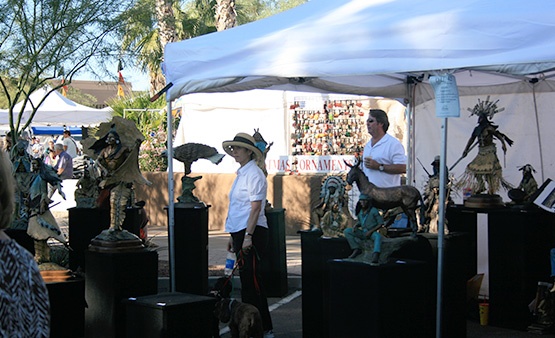 It's one of the "World's Highest Fountains" and sends a snow-white jet stream of water 560 feet into the blue desert sky. Water from the fountain bursts into the air fifteen times a day. Every day since 1971.
While people come to Fountain Hills to see the fountain, they also come because of the art. The creativity. The culture. The music festival. The public art walk. The theater. The River of Time Museum. Great gourmet restaurants. Maybe even the hiking, biking, the parks, picnics exploring the Fort McDowell Mountain preserve and our amazing golf courses. Fountain Hills is a wonderful area to explore. There's always something happening.
Both Fountain Festivals of Fine Arts & Crafts (Spring & Fall) are produced by the Fountain Hills Chamber of Commerce. The Fountain Hills Chamber of Commerce and its members are the driving force behind our thriving business community. The Chamber of Commerce promotes and supports local businesses. Because of everyone's participation and involvement, Fountain Hills festivals and events are always successful.
We believe once you visit, shop and explore Fountain Hills, you'll definitely come back. Were growing. New homes are under construction in different areas around Fountain Hills. Maybe even one is right for you. We'll make you feel right at home as part of our unique community.
Leave feedback
Describe your experience with Fountain Festival of Fine Arts and Crafts