Coin art feature the engraved, carved or decorated motifs of flowers, gods, rulers, nature-based, military and traditional themes. The mention of coin art can be found in various ancient texts and were integral to Greek, Italian, and other civilizations.
Art and Jewelry made of coins is still a popular collector item. Our selection features a broad variety of designs, such as Tree of Life coins crafted on half-dollars, quarters, and penny designs. Here, you can also see coin art pendants and jewelry that you can wear on a daily basis or gift to someone as a token of appreciation. You can browse through our selection to find the best coin art for sale.
Buy Coin Art at Online Art Festival
Our highly-experienced and talented craftsmen create precise coin cuts and coin art products using actual currency. Due to the beautiful artistry and quality construction, coin art has become popular among fashion-savvy individuals and collectors. At Online Art Festival, we offer one of the most unique selections of coin art. The following are some of the best coin art items in our selection:
Coin Art Jewelry:

We provide coin art jewelry designs, such as dual-side engraved pendants, necklaces, bracelets, earrings, and so on. These may make a valuable addition to your modern jewelry box. Being a modern fashionista, you can easily mix and match this jewelry to create the desired look. These may be a great gift option for different occasions, such as birthdays, weddings, etc.
Coin Art Accessories:

Our selection features leather money clip or card holder with different coin designs, including Buffalo Nickel, Eisenhower Dollar, Eagle, Firefighter Montage, Indian Head Nickel, Morgan Dollar, etc. The card holder is made from buffalo leather and features a hand-cut electroplated coin. 
Why Choose Coin Art from Online Art Festival
Our coin sculptures have gained popularity due to the following reasons:
They are made in the USA by master craftsmen, which allows us to ensure the highest standards of workmanship and quality.

They are lightweight and often electroplated with 24K gold and platinum.

Most coin sculptures are set on a handcrafted silver chain, on a colored background, or with some other unique feature.

When appropriate, you can choose the background color from the list of options given.
You can keep the coin art jewelry in a cool and dry place when not in use. Avoid keeping it near chemicals and sprays or in open places where they may be affected by temperature, dust, and dirt. You can clean them using a dry cloth to wipe any dust or dirt that may get accumulated due to daily use. Do not use any chemicals for cleaning the jewelry. For a deep cleaning, most coins should be taken to a professional jeweler for a professional finish.
Yes, they are hand crafted by coin artists;  Two Feathers Coin Art.
In some cases, you will receive the hand-crafted coin pendants and jewelry beautifully set in a jewelry box - other artists may ship more efficiently with simple, secure packaging.  Artists generally strive to ship your new coin art is the most efficient way possible. 
Coin sculptures make a perfect gift item. We can ship it on your behalf. 
All the coin art pieces displayed here are available in inventory or made to order.  Shipping times are set by the Artist.  You can usually receive it within 2-7 working days if the artist has the item available and can ship it right away.  In some cases, shipping may take longer.  Be sure to check each Artist's shipping policy. 
The simple answer is No - it is not illegal to create the products listed here.  The coins are not being modified for the purpose of deception, but are being turned into an entirely new product.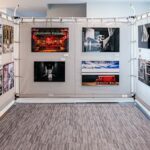 Looking for a unique way to showcase your work? Check out the Artist side of Online Art Festival! Focusing around a juried marketplace, it's the perfect place to sell your pieces and build a community of supporters. Plus, setup is easy and fees are low. Learn More!