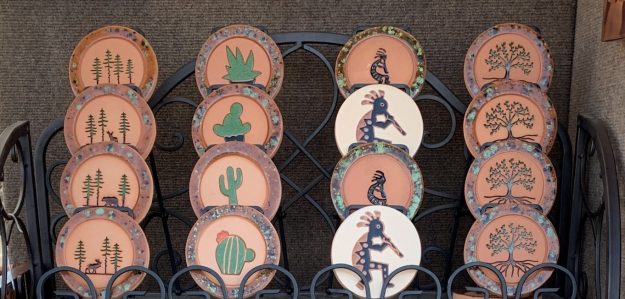 INTRO: My husband and I are artists from Tucson, AZ that participate in fine art festivals within Arizona, approximately 30 per year.  My husbands  (Paul) medium is metal furniture and wall art with the look of copper and myself the medium of clay and mixed media integrating Pauls copper work with my clay, glass and copper tooling. I purchased Nine Hills Studio about 15 years ago from a friend of mine.
Leave feedback
Describe your experience with Nine Hills Studio/Celia Sislow
Contact
If you have any questions, feel free to contact Nine Hills Studio/Celia Sislow via the form below.
My husband and I are artists from Tucson, AZ that participate in fine art festivals within Arizona, approximately 30 per year.  My husbands  (Paul) medium is metal furniture and wall art with the look of copper and myself the medium of clay and mixed media integrating Pauls copper work with my clay, glass and copper tooling. I purchased Nine Hills Studio about 15 years ago from a friend of mine.  Not knowing anything about this medium only that I could do it and loved the art.  I'm a self taught clay artist... I have expanded our product line and designs to reflect the comments, wants and needs, from the many customers we meet at art festivals.  Some are fabulous ideas, others well.... at least we tried (:  Nine Hills Studio has come a long way and ever changing/progressing. I thoroughly love the process of creating something from a drawing, cutting the clay, painting the image, to the finished product.  It's like Christmas opening my kilns (3) to see all the beauties that are waiting to be used as gifts or enhance the customers personality and decor of their home.  I'm constantly adding new thoughts of designs and product lines.   I'm truly blessed to be doing what I Love and am proud of my functional art.  Happy heart to make my customers happy. Thank you, Celia Sislow