Know How Online Art Festival Promises to Transform the Art Scene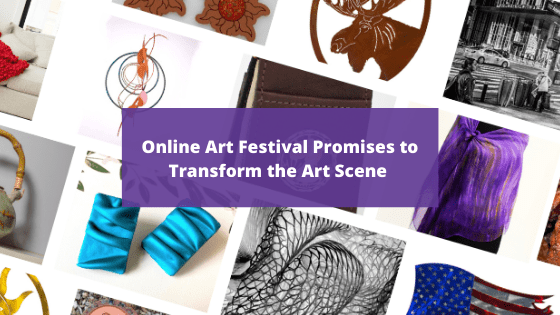 Art and artists have always stirred interest in people of all ages. This is why it can be rightly said that art festivals are one of those events that appeal to a broad section of society irrespective of age, country, or other differentiations. Over the years, several art festivals have gained popularity and in many countries, these art festivals have inspired a new genre of tourism – art tourism, where people travel with the sole purpose to understand and explore the art of the region.
These festivals are organized at particular times of the year and are bound by time restrictions. The artists who exhibit at these events also have limited interactions with people. Both attendees and artists lose opportunities of interaction and purchase after the event ends. What if you could attend an art festival without leaving your home? What if you could shop at these events without worrying about special precautions to be taken while shipping the art to home? If that sounds yes, you are at the right place.
Online Art Festival offers you access to some of the best art festivals and events in the US. The good news is you can attend them at your own leisure. There are no opening and closing times, they are available for viewing 24/7 on your laptop or desktop.
Do you know – Online Art Festival is also a favored platform for artisans and makers and art promoters! How can festival-goers, artisans and makers, and art promoters all exist in the same domain without stepping into each other spaces? Read the post to know the answers.
Online Art Festival: The Most Popular Central Hub for Artisans, Festival Goers, and Promoters
Online Art Festival is the literal interpretation of the name and its main goal is to bring all elements of a traditional in-person art festival to a virtual environment. Here is how each of the participants can benefit from this system.
Festival Goers: They are the people who may want to improve their knowledge of the art, buy an art piece or product, or connect with like-minded people transcending to art festivals. All these goals are easily met on this website through the following features:

Shop: You can view and shop from the comprehensive collection of artifacts and paintings created by some of the best artists in the US. On Online Art Festival, you will find artifacts and paintings created on different mediums. All listed products are accompanied by a detailed description by the artist. You can easily add them to the cart and order them after the payment.
Calendar of Events: This section informs festival-goers regarding the upcoming art events.
Meet the Promoters: By using this feature, the festival-goers can contact different promoters listed on the website. They can see and contact the promoters directly through the contact/support feature inside their individual profiles. Additionally, the festival-goer can also view information regarding the previous events conducted by the promoter, promoter bio, and see the gallery, too.
Meet the Artists: Festival-goers can meet the artists exhibiting at a particular art festival using this feature. It offers them access to artists across genres such as metal and sculpture, jewelry, painting, photography, pottery, and so on.
Artisans and Makers: There is no other platform like Online Art Festival that allows artisans and makers to popularize their art and find good buyers. The classifieds section on the website is for registered artists only. They can utilize it to promote and sell their art.

There is an Artist Application feature that allows new artists to enter the festival and start selling their art. The registered artists can connect with a network of galleries and stores to sell their products. Generally, the artists spend thousands of dollars at tradeshows to meet the customers. However, with Online Art Festival they only need to set the new pricing tier in their marketplace listing and activate the wholesale function.Note: All the artists and vendors selling on the platform are juried to ensure the quality of work. There is a panel of artists to the jury every application, which helps the team at Online Art Festival to stay true to their commitment of promoting genuine and quality art.

Promoters:  Art promoters or art agents, they are commonly known as are involved in marketing and selling artists. In the real world, they accomplish their goals by giving media coverage of the artist and organizing exhibitions in galleries, promoting artists and their work and so on.

Knowing this, Online Art Festival offers several features, which perfectly mimic their role in the real world. Art promoters can manage events and promote customized and artist-specific marketing materials to attract vendors and buyers on the website. They can also utilize this platform to manage their events.
Online Art Festival: What to Expect in Future
The team at Online Art Festival is busy developing an application system that promises to offer excellent multidimensional online experiences to festival-goers, artisans and makers, and promoters.
This system will enable vendors and artists to apply to events.
The cross-listings of events and participants will be supported on this application. This will help capture the attention of shoppers who may not attend the virtual art festivals, still can support the artists participating in the event.
The customers can share their reviews and views on the art on sale using the application system,
Does that sound like a new genre of tourism – online art tourism? If yes, perhaps, this is only the tip of the iceberg, and there is more to it. You can get in touch with the team at Online Art Festival to know and understand the different features of the platform and optimize your experiences.